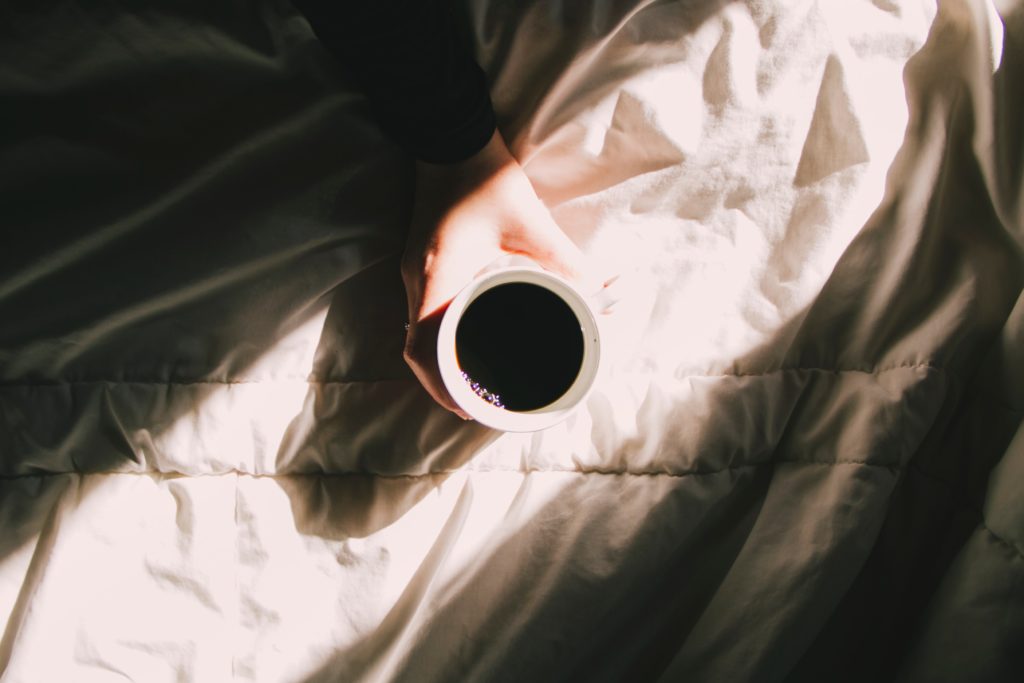 I've come to appreciate a cup or two of strong coffee each morning.  Piping hot and in my favorite stainless double insulated travel mug, the lady boss of all my travel mugs (of which I have many) is how I like it.  If a morning is particularly lazy and I have nowhere to be, I will splurge and use the hand-painted Polish mug from my sister-in-law Julea, a birthday present from my early thirties.  The mug is actually from T.J. Maxx.  But it was hand-painted in Poland so I call it the Polish mug.  I love the mug (and Julea) so much that I tracked down its sisters from every T.J. Maxx in a ten mile radius to form a perfect set of six.   Or I'll fill a steaming cup of  Tony's French Royale (or Tony's Espresso Noir when I'm feeling fancy) to the brim of one of three bird mugs: the turquoise mama bird and her nest of eggs, or the lime green mug with the whimsical bird outlined in white, or it's fraternal mug-brother in blue.
Speaking of the whimsical bird mug in blue, I recently learned from Instagram that Kate has its identical twin.   It's worth mentioning that Kate's mug is the more exotic of the two.  Her mug is from San Luis Obispo.  Mine, I'm sad to say, is from Central Market.  But I can imagine it came from a far-off place other than China. I stole a screen shot of Kate's mug for this blog post, but I have a feeling it isn't Kosher to do so.  Excuse me while I delete the screen shot from my photo library.
Back to morning coffee.
The simple fact that I'd abandoned a tumbler full of Tony's coffee should have been the first clue that trouble was brewing on Saturday.
I will spare you the details and just come out and say it: there was a reason for my coffee avoidance.  And it had nothing to do with a pregnancy.   Fortunately or unfortunately, depending on which camp you belong to, I am not pregnant (or trying to be).  But that's not what I'm getting at.  No, this coffee avoidance had everything to do with The Great Stomach Virus of 2017.
Friends, I'm going to fast forward a few days because no one needs to read about my run-in with the stomach bug.
So here we are on Monday.  As Melanie Shankle says, Monday is the new Saturday.  I agree.  Which is why I'm not feeling the least bit bad about publishing a Weekend Roundup on a weekday.
First off, here's a lovely essay by Leigh Sain.  You can read about it here.   I'm not a fan of Walmart but I adore Leigh's essay about her recent encounter with an elderly saint at Walmart.  Leigh's story pretty much sums up everything I love about grocery shopping.  I never love the idea of grocery shopping, but once I get there, the kind of stuff Leigh writes about happens on a regular basis.  I'm telling you, the aisles of Fred Meyer, Central Market and Costco is where it's at.  Let's not forget about Trader Joe's.
Up next is another one from The Hippo Chronicles.  I'm a huge fan of Elli Johnson's work.  In fact, I've linked to Elli's essays in previous Weekend Roundups.   Elli is my age (okay, maybe a smidget younger) and writes regularly about life with anxiety.  Here ya go.  Now drop everything and take in her words like breathing in a giant breath of fresh air.
If you're more of a type-A check list type of gal or guy, the following post kinda-sorta goes along with Elli's essay.   I still haven't figured out if I'm type-A or B.  Depends on the day, I guess.  Or the moment, which probably means B.  Anyway, Jill E. McCormick shared a similar message on her blog from a slightly different angle.  You can read about it here.  It's about what to do when you're overwhelmed with responsibilities.
I was intrigued by the title of the next Hope*Writer essay: That time I stalked Lisa Harper by Erin Whitmer.  Here it is for your reading enjoyment.  I probably shouldn't tell you why Erin's plug about her essay caught my attention in the first place.   I'll give you a hint to wet your pallet:  My fascination with this essay may, or may not, have everything to do with one dreadfully boring summer between sophomore and junior year of high school.  One of my high school besties (who shall remain nameless) and I drove shamelessly through Seattle's Blue Ridge neighborhood in a fire engine red Subaru wagon fueled by snacks from Safeway in hopes of glimpsing a certain someone at home.  We practiced the fine art of stalking on a semi-regular basis that summer, I'm sad to say.   Come to think of it, the Subie was more tomato-red than anything. We were too cool to care.
Once again I'm linking to my dear friend, Jody Lee Collins.   Jody wrote this essay several years ago for (in)Courage about giving up on "quiet time" with God.  Jody is a kindred spirit and her words come from a tender place.  I'm linking to the original version here because I'm proud of my friend.  Here's a link to Jody's website if you want to read more.  By the way, Jody has a book releasing soon.  You'll hear about it later.  I can't wait to tell you about her labor of love.
Speaking of friends, my friend Emily, the ring leader of  Kindred Mom, featured an essay on her site last week by Tia McNelly.   Honestly, Tia's words grabbed me from the start.  I'm not entirely sure if Emily shared this essay with the Hope*Writers.  I'm sharing it anyway because it's that good.  Here's a sample to get you hooked: "In the sunshine of a crisp April morning in the Appalachians, I smoked my last cigarette. I knew it was my last cigarette because I knew I was pregnant and once I took a test, that was it."  You can read more here.  You're welcome.
Andrea Wolloff's essay is the final essay in this poor excuse of a Weekend Roundup.  Andrea shared a truly lovely essay about God, and "how he sets our calling in us when we are little and full of wonder." Yes to this.
When I was a little girl I adored playing school.  There's no words to describe the joy I got out of creating a daily class schedule, which I'd print in my very best handwriting on the oversize green chalkboard in my bedroom.  Or was it a blackboard?  All I know is that quite a bit of time was spent coming up with seating arrangements and imaginary class lists, alphabetized of course.  Another biggie for me was spending time nurturing baby dolls, especially my ten Cabbage Patch Kids, yes ten.  (A wee bit obsessive-compulsive, don't ya think?) And what about Barbie?  My neighbor Sharon and I played for hours and hours with our Barbies on the cold cement floor of the daylight basement of my childhood.  We played the day away beneath the staircase where my Barbie house was stored.  The really interesting part about my Barbie days is that I invested more time in rearranging Barbie's furniture and thinking up story lines for her life with Ken than I did actually playing with them.  As an adult, my greatest love has been teaching preschool and kindergarten, becoming a wife and mama, and realizing that I'm a writer with a constant story happening in my head.  Oh, and I spend quite a bit of time trying to transform our home into a sort of sanctuary from the word.  In other words, I'm moving furniture.
Enough about Barbie and me.  Back to Andrea.  As a writer, Andrea is new to me; but I love what she has to say.  I appreciate her essay and look forward to reading more from her in the future.  By the way, you can read Andrea's essay here.
That's all for now.  My little dog is fast asleep by my side.  So is my husband.  Have a wonderful week.  Tomorrow is supposed to be a beautiful fall day, at least in the Pacific Northwest where I'm from.
N.
P.S. I have a few book reviews in the works.  Stay tuned.  I haven't had time to actually write these reviews, not yet, but they're long overdue and coming your way!  Let's see if I can type-A myself into making it happen.